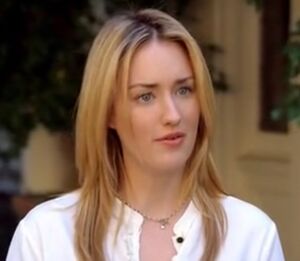 Clara Tennant
(Ashley Johnson) is the main villainess from "Seeing Red," episode 1.07 of 
The Mentalist
(airdate November 18, 2008). She is the older offspring of Rosemary Tennant (who was murdered in the beginning of the episode), and the sister of Travis Tennant, who ran away from home due to hatred of Rosemary's house guest, Jeremy Hale (a hatred that Clara shared).
Moments before Rosemary's murder, Clara confronted her mother over her decision to write Travis out of the will. Furious over the decision, Clara took her mother's car and followed Rosemary to one of her sessions with psychic Kristina Frye, who warned Rosemary that something bad would happen to her. While she was in the car, Clara dialed Rosemary's phone hoping to talk to her, only for Rosemary to hang up. After that, Clara flew into a rage and ran over Rosemary, killing her.
Clara was revealed as her mother's killer during a "seance" orchestrated by Jane at the Tennant home. Unbeknownst to Kristina and others involved, Cho and Rigsby actually provided the effects, including a voice that asked Clara why she did it. Clara ran from the room and was followed by Jane, who recorded Clara's tearful confession. In her interrogation, Clara revealed everything to Lisbon, stating that she did it for Travis. She also tearfully vented that parents are supposed to look after their children, and she asked Jane to see Travis once more. Before being taken away in cuffs, Clara said her goodbye to Travis, and gave him some sisterly advice.
Trivia
Community content is available under
CC-BY-SA
unless otherwise noted.