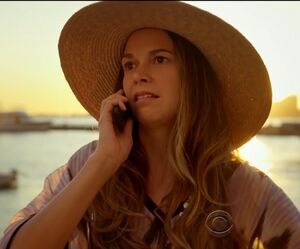 Celia Baxter (Sutton Foster) is the main villainess from "Bye Bye Birdie," episode 1.10 of Instinct (airdate June 3, 2018). She is an author who was introduced as a victim of an attack in her home, with Celia describing the attacker as a man wearing a suit and a sheep's mask.
Celia suffered a cut to her arm during the attack, and after she was found and rescued by Detective Lizzie Needham and Dr. Dylan Reinhart, it was revealed by the latter that Celia was dying of cancer. The reveal came during a conversation between the two, which had Celia stating that a book of hers was stolen by her professor, Ben Richfield, who turned it into a hit TV series. After Richfield's blood was found at the scene, as well as learning that the attack was connected to the murder of another author, Renata Pendell, Richfield was arrested. However, a twist revealed that the blood was synthetic, and that the true culprit behind everything was none than the perceived victim: Celia.
After learning that she was on borrowed time, Celia cooked up what was referred to by Dylan as a "diabolical hit list," which had her getting revenge on those who wronged her. It was revealed that Renata was having an affair with Celia's ex-husband, and she later donned the aforementioned disguise and stabbed Renata to death. Later on, the evil Celia staged her own attack, even cutting herself with the knife, and placed Richfield's blood in the scene--getting the synthetic DNA from a coffee cup that Richfield was drinking out of. Celia's next target was Joan Ross, who was Dylan's publisher, as she passed on one of Celia's books. The villainess poisoned Joan's glass of tea, but Dylan and Lizzie arrived at the home, where the former fired a shot at the glass to save Joan.
Celia's reveal was completed after a manuscript detailing her evil actions was found by the pair, along with a note to Dylan encouraging his pursuit for another idea. She had escaped to Bermuda, where she spoke to Dylan and Lizzie on her phone and boldly confessed to her crimes. Lizzie vowed to capture and arrest Celia, who reminded Lizzie and Dylan that she had weeks to live and that she would probably be dead by the time they catch up to her. After ending the call, Celia smashed the phone and tossed it into the water.
Trivia
Sutton Foster previously appeared on Royal Pains as villainess

Julie Sharp

.
Gallery