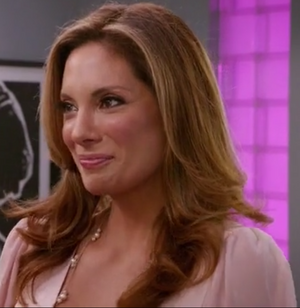 Carmen Santamaria (Alex Meneses) is the main villainess from "Evil Twin," the 2015 second episode of Telenovela. She is the twin sister of veteran actress Isabela Santamaria, and she visited her sister on the set as a surprise for their birthday. Carmen later engages in conversation with Gael regarding Isabela, which had Gael describing the horrible things that Isabela has done to him and other cast members.
It is at that moment when Carmen shows her true colors; revealing that she had been recording their conversation and she plans to write a tell-all book about Isabela. Carmen had resented Isabela's success after the latter won an acting gig that she was vying for, and she had visited the set with plans to ruin Isabela. Gael is left surprised that Carmen is actually the evil twin, mainly due to Isabela's nasty personality, and he and Ana planned to stop Carmen's evil plan--even after the scheming Carmen tempted to reveal her and Isabela's real age (something the rest of the cast had been eager to know).
Isabela arrived and witnessed her sister being confronted by Ana and Gael, who Carmen falsely claimed were bullying her. Isabela quickly sees through Carmen's deception and engaged in a catfight with her evil sister, which ended with Isabela knocking out Carmen with a wine bottle.
Trivia 
Alex Meneses appeared as Roxie in the 2000 film "The Flitstones in Viva Rock Vegas".
Gallery 
Community content is available under
CC-BY-SA
unless otherwise noted.