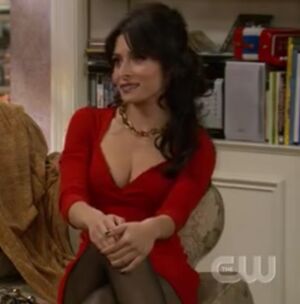 Bridget O'Hara
(Sarah Shahi) is the main villainess from "Cheyenne's Rival," episode 6.10 of
Reba
(airdate January 28, 2007). She is Cheyenne Montgomery's high school nemesis, as well as the owner of a house she was selling--and Cheyenne (JoAnna Garcia Swisher) and Van (Steve Howey) were looking to buy.
Bridget encountered Cheyenne, Van, and Reba (Reba McEintire) at her home, with the girls exchanging chilly greetings to each other. She revealed that she asked Van to go the Sadie Hawkins Dance, and when it came to the house, Bridget asked Cheyenne if she really wanted it. After learning that she did, Bridget stated that she would never sell the house to her, as she was getting revenge for Cheyenne writing unflattering comments about her in the girls' bathroom at high school.
Later in the episode, Bridget (after some urging from Reba) arrived at Cheyenne's house in an attempt to mend fences, but all she did was further flames by forcing an apology out of Cheyenne. She also claimed to Cheyenne that she asked Van to the dance because Van asked her to--while also claiming that Van couldn't stand Cheyenne. After Van denies Bridget's cruel claims, Reba throws out the troublemaking villainess, while stating that Cheyenne had no interest in the house. However, this was done to test Bridget's desperation to sell the house, and as Reba predicted, Bridget was at the door admitting that she went too far apologizing to Cheyenne--only doing so out of her own desperation. She ended up selling the house to Cheyenne, after Reba told her to do so at a reduced price.
Trivia
Sarah Shahi is the real-life wife of James Howey, who played Van on Reba.
Sarah Shahi is perhaps best known for playing villainess Constance Welch on the pilot episode of Supernatural.
Gallery
Community content is available under
CC-BY-SA
unless otherwise noted.