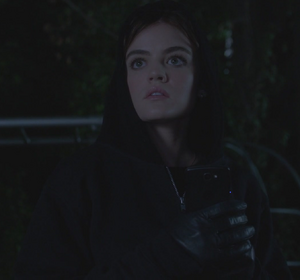 Aria Montgomery
(Lucy Hale) is one of the main protagonists from ABC Family/Freeform's series, 
Pretty Little Liars
. In the latter half of the show's seventh and final season, Aria served as the secondary villainess.
Throughout the entire series, Aria and the protagonistic Liars were blackmailed and tormented by "A," a group of villains targeting the group for their own nefarious motive, with the original "A" being Mona Vanderwaal. In Season Seven's "Power Play," the renamed "A.D." team made an offer to Aria to join them, doing so due to info that could ruin her relationship with her fiancee, Ezra Fitz. The episode ended with Aria being asked via text message if a decision has been made, with no definitive answer.
However, in the following episode, "In the Eye Abides the Heart," Aria turned heel and agreed to an alliance with "A.D.," and later gave the team information on the Liars, while also stealing Lucas' comic book. In return for her cooperation, Aria is given her black hoodie, the villainous attire for the team. In the next episode, "The Glove That Rocks the Cradle, the evil Aria broke into Allison and Emily's nursery and began destroying it, which included spreading blood all over the area. The villainess committed her nefarious act in her hoodie and wearing her black leather gloves, cementing Aria's heel turn. However, Aria hid and escaped before she was almost caught by Emily. In the episode, "Driving Miss Crazy," Aria planted a phone in the Hastings home, which contained a recording of Peter Hastings and Mary Drake arguing in the aftermath of Jessica's death.
The rest of the Liars learned Aria's villainous secret in the following episode, "Choose or Lose." In the episode, Aria appeared under her heel persona and went to the Hastings home as ordered by "A.D." It was there, however, that the rest of the Liars caught her, and were shocked over seeing Aria in the hoodie, even after Mona informed them of Aria's alliance. Aria explained that six years earlier, after Ezra revealed to be writing a book about Alison, she filled a complaint protocol against Ezra, but never reported it, and somehow 'A.D.' had access to it and was using it to blackmail Aria. Despite this, the Liars were upset at Aria and left her.
Following her reveal, Aria defected from the faction, and was redeemed by the end of the series.
Gallery
Videos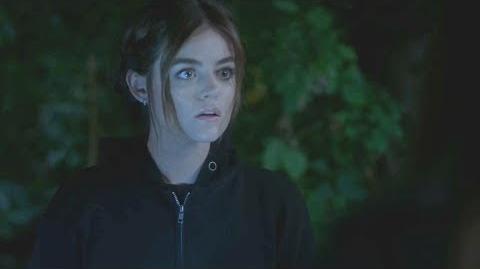 Community content is available under
CC-BY-SA
unless otherwise noted.