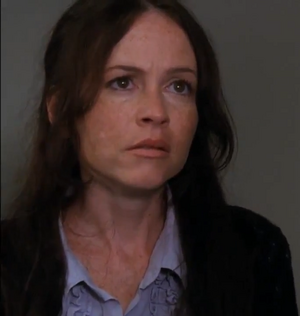 Ann Weber (Olivia Burnette) is the main villainess from "Off the Hook," episode 6.06 of The Closer (airdate August 16, 2010). She is the widow of Scott Weber, who was killed by ex-con Richard Conway.
Conway was brought in as part of Major Crimes' investigation regarding the murder of California Parole Commissioner Danielle Ross, as he was released as part of a program that allowed early release for non-violent offenders, which Ross approved. Conway's interview came after they addressed convicted killer Tomas Medina, who was believed to have masterminded the murder, until Brenda Leigh Johnson realized that he had nothing to do with Ross' murder.
During his interview, Conway (who was once convicted of drug possession) voiced his belief that he should not have been released, adding that it was part of the reason why he killed Scott Weber with a box cutter at an ATM, doing so to score drug money. It was at that moment that Ann appeared at the station, after which Brenda caught the scent of her perfume, which Ann revealed was named Gardenia. It was the same scent that was at the Ross murder scene, and knowing that Ann was Ross' true killer, Brenda and Sgt. David Gabriel informed Ann that Conway was actually innocent in her husband's murder. This caused Ann to go into shock, after which Brenda offered to drive her home; however, Ann was driven to Ross' home, where she was officially revealed as Ross' killer.
As Brenda revealed, Ann turned heel following her husband's murder and sought revenge on Ross, who she blamed for the chain of events that led to Scott's murder. She continuously stalked Ross inside her home before stealing Ross' garage door opener to reprogram her own, allowing her to enter Ross' home through the garage and shoot her to death, after which she used the aforementioned box cutter to slash Ross' throat post-mortem. In response, the evil Ann admitted to stalking and killing Ross, and lashed out at Major Crimes for arresting an innocent man, with Gabriel revealing that Conway did kill Scott and his innocence was a lie to trap Ann. Gabriel added that Conway's release wasn't Ross' idea and that she only signed off on the program, only for the callous and deranged madwoman to continue to blame Ross, adding that she went along with the release. Afterwards, Ann was handcuffed and arrested.
Trivia
Olivia Burnette also appeared on NCIS as villainess Sarah Lowell.