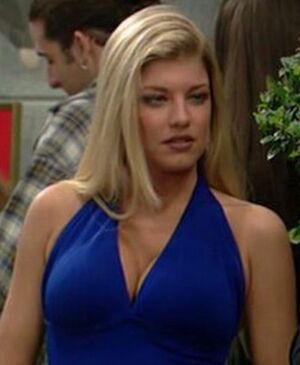 Ann (Stacy "Fergie" Ferguson) is the villainess from "Nooner or Later," episode 8.21 of Married...With Children (airdate April 10, 1994). In her brief appearance, Ann approached Bud while he and Kelly were in a long line waiting to purchase tickets to a concert featuring a band known as Burned Beyond Recognition (appearing after Kelly walks off).
Ann used her feminine wiles to flirt with Bud and convince him to allow her to cut in line. After this, she asked Bud if a few of her friends could join them, which Bud agrees to after Ann tells him that they're as good looking as she is. At that moment, Ann turned heel and revealed herself as a decoy, calling over a group of guys who paid her to get them to cut in line. Following the reveal, the evil Ann received her payment, and she walked off as the group sent Bud further back in line.
Trivia
Videos
Community content is available under
CC-BY-SA
unless otherwise noted.