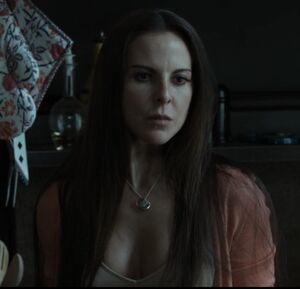 Alexis (Kate del Castillo) was the hidden villainess from the 2014 film, No Good Deed. She was the former fiancee of main antagonist Colin Evans, who violently escaped from prison after serving five years for manslaughter. During Colin's incarceration, Alexis engaged in an adulterous affair with Jeffrey Granger, the husband of the film's main protagonist Terri Granger. Her illicit relationship was discovered by Colin, who stalked her and entered her home to confront her. During the confrontation (which quickly turned violent), Alexis admitted her affair to Colin, who later killed the villainess by bludgeoning her with a lamp.
It was Alexis' affair that prompted Colin to search for Jeffrey, planning to kill him, only to find Terri and terrorize her. Alexis' villainous reveal came after Terri found her body at Colin's home, having been forcibly brought there by Colin. When she answered Alexis' phone and heard Jeffrey's voice, she realizes that the two had been having an affair.
Gallery
Community content is available under
CC-BY-SA
unless otherwise noted.