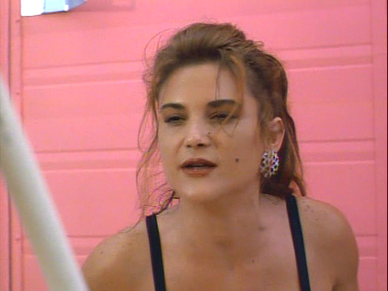 Sabra (Andrea Naschak) is a secondary antagonist in the 1992 screwball comedy film "Hold Me, Thrill Me, Kiss Me".
Sabra is the abusive older sister of Dannie (Adrienne Shelly), who she begrudgingly looks after due to her old boyfriend having burned their parents alive. Working as a stripper, she one night meets protagonist Eli (Max Parrish) and forms an immediate attraction to him. She takes him back to her place to seduce him and ties him up to the bed post.  Once he finally sobers up, it is clear that he does not feel the same way towards her, but rather is in love with her younger sister Dannie. Disgusted by the idea that he would go for her underdeveloped baby sister instead of a "real woman" like herself, a jealous Sabra makes several attempts to separate the two.  She even goes as far as to have Dannie's Great Dane Gus, put to sleep as punishment.  To this, Dannie gets in a serious catfight with her, with the neighbors egging it on.
Despite being only 16 years old, Sabra is a stripper and a crude and vulgar girl.  There are several scenes in which Sabra is dancing on stage with sexy outfits.  In one, she is dressed in black thigh high boots and metal plated bras.  She has another stripper tied up like a dog with a chain, and is performing a dominatrix act.
Having been pushed to the limit from her elder sibling's abuse, however, a tearful Dannie poisons her Yoo Hoo chocolate milk (Sabra's favorite drink) with pills and cleaners from beneath the kitchen sink. Afterwards, Dannie has a twinge of guilt and is beginning to pour the drink out.  However, an angry Sable storms in and knocks Dannie out with a frying pan, from which her sole concern thereafter is that her hair is becoming nappy. She is killed moments later after taking a gulp of the concoction that Dannie had prepared.  Dannie and Eli bury the wicked sister to hide the evidence in a pet cemetery.
Trivia 
Andrea Naschak appears in real life in porn flicks under the name April Rayne.
Community content is available under
CC-BY-SA
unless otherwise noted.