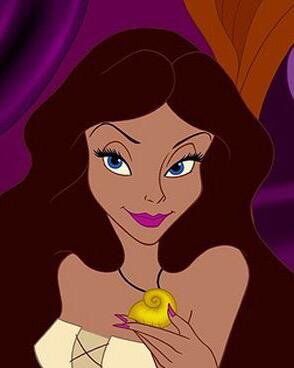 Ursula is the main villainess from the Disney animation The Little Mermaid. She disguises herself as a woman she calls Vanessa.
Vanessa looks quite a bit like Ariel, but has brown hair instead of red and is much sexier too. Despite Ariel's attractiveness, Vanessa wears dresses that cling, in some cases to the point of being nearly skin-tight, to her curves. This highlight on her curves brings further subtle alterations to bear: Vanessa's breasts are slightly, but impressively, larger than Ariel's and considerably more perky, high on her chest, and tucked into tight dresses that lightly bounce them. Vanessa's waist is smaller than Ariel's which makes her hips, looking as full as Ariel's, actually fuller, all of her dresses accentuate her sexuality, more or less modestly, always clinging to her breasts and hips. She bears more skin than any other clothed character in the film.
Vanessa outwardly imitates Ariel's sweet and kindly nature, but secretly she is actually quite sinister. She puts Prince Eric under a love spell in order to guarantee that he will marry her instead of Ariel, thus causing Ariel to become one of her slaves. She also kicks Eric's sheepdog, Max, in the face after he growls at her.
"In my day we had fantasical feast when I lived in the palace. And now look at me... Wasted away to practically nothing. Banished and exiled and practically starving. (referring to King Triton) While he and his flimsy fish folk celebrate. Well I'll give him something to celebrate soon enough. [to her two eel Minions] Flotsam! Jetsam! (referring to Ariel) I want you to keep an extra close watch on this pretty, little daughter of his. She maybe the key to Triton's undoing."
Community content is available under
CC-BY-SA
unless otherwise noted.