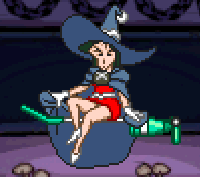 Ume Matsuzaka (松坂 梅 or まつざか梅 or まつざか先生) is a boss from the Nintendo DS video game Crayon Shin-Chan: Arashi Wo Yobu Nutte Crayoon Daisakusen (クレヨンしんちゃんDS 嵐を呼ぶぬってクレヨ~ン大作戦!).
In this game Ume has the role of the evil witch from Hansel & Gretel, and is the boss fight at the end of that stage.
Appears:
The Hansel & Gretel themed stage "Sweet Dreams"
Attacks:
Dropping a cake on you
Emptying a sack of spiky balls on you
Summoning giant cookies that bounce around the room
Kicking her legs about during an angry tantrum
Strategy:
Ume has the advantage of high ground over you, she hovers horizontally on her broom and will drop items on top of you from above. The only real way of attacking her is by jumping on her head, but it is very hard to reach her head without being damaged by her due to the high ground advantage she has.
One way of reaching her head is by jumping on the giant cookies she summons to get some extra height on a jump and then aim for her head.
An easier method is to lure her lower to the ground by using the crayon gimmick the game has. The crayons can create a giant cake with candles by using the remains of the cakes she drops on you. This giant cake catches her attention and she swoops down lower to go and blow the candles out. Here you can jump on her head which will damage her and cause her some humiliation as your jump sends her face first in to the cake.
Community content is available under
CC-BY-SA
unless otherwise noted.