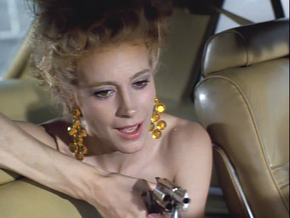 Twinkle Mirkinson
(Sean Young) is the primary antagonist of the 1992 screwball comedy film "Hold Me, Thrill Me, Kiss Me".
One night, Twinkle finds the film's protagonist, Eli, burglarizing her home. Rather than panic or attempt to impede his efforts, however, she instead decides to aid him in his theivery by opening the combination on her parents' safe, and informing him of other places that her father hides money in their house. Her one condition is that he commit to marry her, but after a while, Eli decides that he has had enough of this relationship/partnership. At their shotgun wedding, he screams that he doesn't like her and has no plans to marry her. He wrestles the gun out of her hand and is chased out onto the lawn, where the two scuffle - resulting in Twinkle being shot. Thinking himself a murderer, a panicked Eli flees with her parents money.
Towards the end of the film, a very much alive Twinkle resurfaces once more. She again holds Eli at gunpoint, but he manages to retrieve the weapon and cold cocks her with it. The woman's loss of consciousness is very brief, however, as she runs Eli down in a car moments later, and then attempts to kill his newest girlfriend, Dannie, inside of a warehouse. Eli shoots Twinkle in the head, but wanting to be extra certain that she is dead, Dannie reenters the building and shoots the villainess several more times.
Community content is available under
CC-BY-SA
unless otherwise noted.