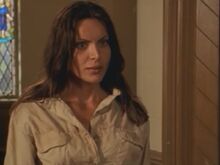 Turley is the hidden main villain from the episode Transformation  (S01 E07) of the Tia Carere series Relic Hunter. She is played by Roberta Angelica.
Sydney Fox (Tia Carrere) and her partner are looking for a hidden scroll in the Peruvian jungle. Turley wants to steal the scroll and pretends to be there to help them. But her cover was blown after the good guys find a wiretap in her bra. Turley gets bound and gagged but manages to free herself. She tries to get the scroll buy using a gun but gets disarmed by Sydney. Turley runs away but Sydney catches her and both fall into a pigpen. Covered in mud a catfight starts, while the good guys watch it amused. Both ladies fall again into the mud and get up very sexy until Sydney finally knockes out Turley.
Community content is available under
CC-BY-SA
unless otherwise noted.