Trine Halden is one of the antagonist mix. orcs in the animation Strike the Blood, with the ability of civet.<figcaption></figcaption>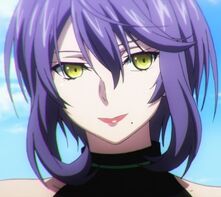 OVA「The Valkyria Kindom」
Appearance
Edit
Indigo purple haired busty voluptuous lady, with a small pole at her left corner of her mouth.
Trine worked in military information Department of "North Sea Empire" as the terrorists organization appeared in the OVA, as the team leader as well as a boss enemy in this film. To extend the power of North Sea Empire, and eliminate her foe, a descendant of noble vampire which is another minor role in the animation, Trine sneaked into the Party that took place on the eve of the signing ceremony, approaching Kojo. After causing uproar during a party, she pretended to be an innocent maid and seduce Kojo, with pheromones wrapped around her finger, turning Kojo to a "servant" of her, though just temporarily.[1]
Next day, Trine and terrorist groups are manipulating Kojo and attacked and captured the armored airship RAID, to outbreak a war of espionage operations. When the heroines who came to save Kojo failed into her controls, they found Trine is controlling Kojo using her ability. In the end when she had to confront the rescued heroines, Kojo regained his consciousness by the sniffed sweat of Yukina, the heroine, that secreted in the hot and humid weather. The heroes found Trine was actually a civet orc, and had the ability to captivate people using pheromones in her perspiration, but youthful female students sweat smell accidentally disabled Trine's pheromones lol. Trine then frustratedly transformed into a beasts-like state, which could be her original satte of civet, but was easily knocked down by Yukina and other heroines on the airship.[1]
References
Edit
↑トリーネ・ハルデン, 女ザコ・敵女・悪女情報wiki
Community content is available under
CC-BY-SA
unless otherwise noted.