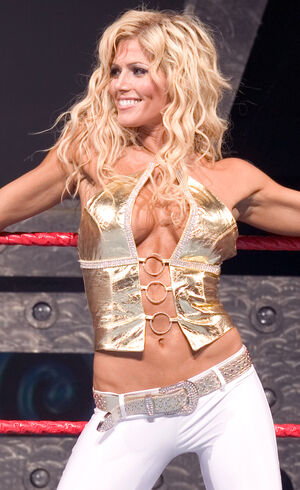 Torrie Wilson is a former wrestler and manager who competed in WCW and WWE, where she portrayed a villainess in both companies.
Torrie debuted in WCW in 1999 as a seductress brought in by the nWo to seduce David Flair so he would turn against his father Ric Flair. She spent the remainder of her time in WCW as a villainous valet for the likes of David Flair, Billy Kidman and Shane Douglas.
She then joined WWE in June 2001 as a member of of the Alliance, a group who planned on taking over WWE. She teamed up with the evil Stacy Keibler, a fellow Alliance member, and together they targeted the good girls of the WWE. This included a 3 on 1 backstage assault on Lita, where the evil Alliance girls attempted to injure Lita's knee.
On the 22nd August 2005 edition of RAW Torrie along with Candice Michelle, welcomed new girl Ashley Massaro to WWE. The welcome became unfriendly quickly when Torrie kicked Ashley out of nowhere and started slapping her around, as Candice watched with glee. The following week Torrie and Candice came to the ring and pretended to apologise to Ashley for their attack last week, but instead set the rookie up for a match with Victoria, one of the most experienced and meanest women on the roster. Torrie and Candice watched with pleasure as the rookie Ashley was dominated by Victoria. The three women went on to form an alliance known as Vince's Devils, and continued to torment and bully the good girls of the WWE.
Community content is available under
CC-BY-SA
unless otherwise noted.