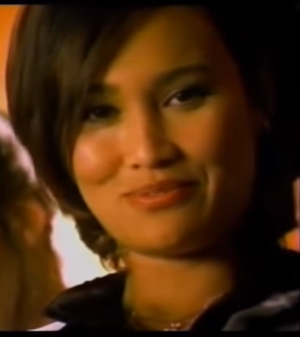 Tia Carrere
 is a villainess who plays herself in three 
M&M's
 commercials released in 1997. She appeared in numerous ads for M&M's before her villainous turn in the 1997 ad, titled 
Seat
.
In the first commercial Tia was reading a book, when Yellow, Red's best friend, fell and landed on her. As she was tickling Yellow, Tia comments that He's sweet. She kissed and Bit Yellow, for Red thinking asking Yellow if it's love, which Yellow confirms.
In the second commercial, Tia, Red and Yellow were relaxing at pool, when Chocolate bar showed up sliding the spokescandies' way.
In the final commercial, Red and Yellow appeared as Tia's invited guest at a party, with Tia instructing the pair to have a seat in a further direction. After continuing to schmooze with the guests, Red and Yellow sit in a crystal bowl, with the latter wondering if it's a retro-style chair.
In response, Tia turned heel by laughing wickedly and commenting it was "something like that," followed by the duo realizing that they were displayed on a buffet table. Red shouted in horror that the evil Tia sold them out, and the commercial ends with the pair hiding under the bowl as the guests attempt to eat them.
Trivia
That same year, Tia Carrere appeared in the film, Kull the Conqueror, as evil witch Akivasha.
Tia Carrere is best known for playing villainess Juno Skinner in 1994's True Lies. She also played scheming villainess Piper Bauman on Married...With Children, villainous conspirator Snookie Waeawa in Aloha, Scooby-Doo, evil scientist Joan Maxwell in Merlin:  The Return, and evil human trafficker Chao Lin on Blue Bloods.
Videos
Community content is available under
CC-BY-SA
unless otherwise noted.