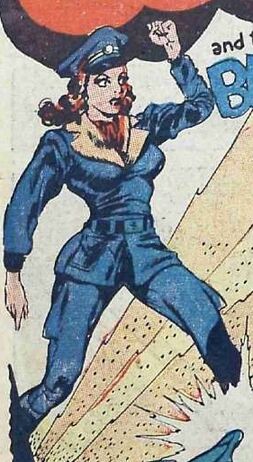 The Blue Falcon appeared in the 1942, Captain Aero Comics # # 1 8 (2) and 2 4(10)(Holyoke).
The Blue Falcon was a lady Nazi pilot in control of a deadly "blue ray" which she has equipped on the nose of her plane and that can quickly reduce an enemy aircraft into molten metal.
Originally Captain Aero faced her in the Caribbean where he thought she had perished but she pops up again months later in China bedeviling some of the Flying Tigers who happen to be old friends of Captain Aero.
Her viciousness can be shown when she sends the outfit a message along with the ears of some missing squadron leaders. She survived the second encounter with captain Aero, when her plane crashed.
Community content is available under
CC-BY-SA
unless otherwise noted.