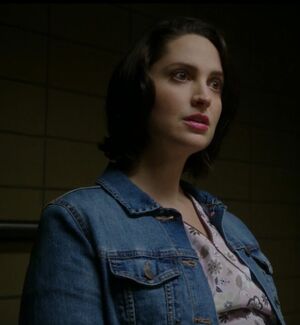 Tessa Pritchard (Kelly McCrann) is the main villainess from "Command: Delete," episode 7.06 of Elementary (airdate June 27, 2019). She is a nurse who worked for Dr. Burgess, an endocrinologist who had boxer Baron Wright as his main patient.
In her first appearance, Tessa (who was quickly revealed to be pregnant) attempted to prevent Sherlock Holmes and Joan Watson from entering Burgess' office, only for the pair to find Burgess shredding files connected to Baron, who was murdered. While Burgess was suspected because of this, he confessed to breaking in to Baron's apartment to get more of his blood due to his diagnosis of EPI and having a physically fit body despite the syndrome.
The case regarding Baron turned out to be connected to detective Marcus Bell's case regarding Davis Whitmark, who was enlisted to shoot a sniper's rifle at a room Baron was staying in. The investigation's progression revealed that Baron was actually an heir to the Bautista family fortune, which was centered around rare coffee beans grown in Guatemala, and Baron was believed to be the sole living heir until it was suspected that another heir could be the mastermind of Baron's murder. Joan and Bell later learned that Tessa phoned regarding the Bautista fortune and bloodline, and it led Joan to the conclusion that not only was Tessa pregnant with the next heir, but she was the true murderous mastermind.
As revealed in her interrogation, Tessa was in the Army before becoming a nurse, and she had dated Baron a few times, resulting in the pregnancy. Upon learning about his family history, Tessa planned to kill Baron, forcing Davis into her plan by blackmailing him regarding a series of bondage videos he had made. Davis was captured before he could get the chance to fire the shots, and that allowed Baron to be protected by a pair of guards. After Burgess broke in, Baron and the guards were on the move, and once they were out in the open, the evil Tessa shot and killed Baron and his guards. The villainess committed the murders to gain the fortune, as she was pregnant with Baron's baby, though Tessa attempted to deny that Baron was the father of her unborn baby, and also added that the statements against her were circumstantial. Bell responded that a paternity test would prove that Baron is the father of Tessa's baby, and after realizing that she was defeated, Tessa was arrested (off-screen).
Community content is available under
CC-BY-SA
unless otherwise noted.