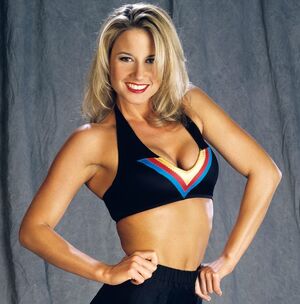 Sunny
 is a
WWE
Hall of Famer best known for her career as a villainous manager.
After working at Smoky Mountain Wrestling, Sunny joined the World Wrestling Federation in 1994, where she played the role of a commentator named Tamara Murphy before beginning her Hall of Fame career as a manager. Sunny's first managed The Bodydonnas, Skip and Zip (the former being Sunny's real life boyfriend, Chris Candido. She managed the duo to the WWF Tag Team Championship at WrestleMania XII, defeating The Godwinns to win the titles. After they lost the belts back to the Godwinns, Sunny betrayed The Bodydonnas in favor of the newly crowned champions, beginning a trend that established Sunny's ambitious and gold-digging heel character. The villainous Sunny later betrayed the Godwinns and helped The Smoking Gunns defeat them for the tag titles, and later fired the Gunns when they lost the titles.
Independent circuit
Edit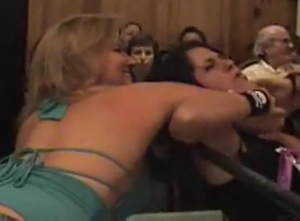 Sunny left the WWF in 1998 after a brief run as a babyface manager for LOD 2000, and after stints in WCW and ECW, she frequented the independent circuit, mainly under her real name, Tammy Lynn Sytch.  Among the promotions Sytch appeared for was Women Superstars Uncensored in December 2007, defeating Alicia to capture the WSU Championship, only to lose the title to Nikki Roxx on March 21, 2008.
One day after losing the title, Sytch appeared at WSU's J-Cup Tournament and introduced Dawn Marie (Sytch's former ECW rival) as Becky's first round opponent. Despite being cheered in her intro, Sytch turned heel and acted as a manager for Dawn, cheering and supporting Dawn's heel tactics towards Becky. On one occasion, the evil Sytch attacked Becky while Dawn had the referee distracted, cementing Sytch as a villainess at the event. Despite Sytch's villainous actions, Dawn ended up disqualified when she was choking out Becky.
Tammy Lynn "Sunny" Sytch's WSU heel turn was part of a rare double turn between her and Becky Bayless. Originally, Becky was a heel aligned with Alicia when a face Sytch started feuding with her, and both women were introduced in those roles at the J-Cup Tournament. Dawn Marie was an apparent face, but she became villainous when her match against Becky progressed. Sytch turned villainous in solidarity to Dawn during the match, and it was Sytch's heel persona and actions that ended up turning Becky face.
Community content is available under
CC-BY-SA
unless otherwise noted.