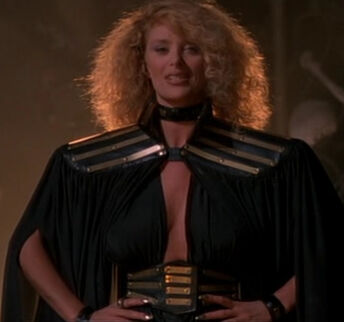 Stirba
(Sybil Danning) is the main villainess from the 1985 movie, 
Howling II:  Your Sister is a Werewolf
.
Stirba is a 10,000-year-old werewolf sorceress and the evil queen of all werewolves. She had become an aged, old crone by the time of the film's events, but in her first appearance in the film, Stirba regained her youth and beauty in a ritual that included lamb's blood and a sacrifice of a young woman. After this, Stirba engaged in sexual tryst with her minions Mariana and Vlad, while all three were in partial werewolf form.
Stirba focused on her evil mission, which was to take down her brother, Stefan Crosscoe, and anyone else in her way. Later in the film, the evil Stirba cast her spell that turned Mariana and Vlad into werewolves, while also killing Vasile, a Romanian dwarf helping Stefan, Ben White, and Jenny Templeton. Vasile had been wearing protective ear plugs to prevent Stirba's spells from affecting him, but once they were dropped, her powerful voice caused Vasile's eyeballs to explode. After killing Vasile, Stirba also captured Jenny, leading to Ben and Stefan returning to her castle to rescue her. Stefan confronted his evil sister for the final time, as he cast a spell that later killed not only himself, but the villainess as well.
Community content is available under
CC-BY-SA
unless otherwise noted.