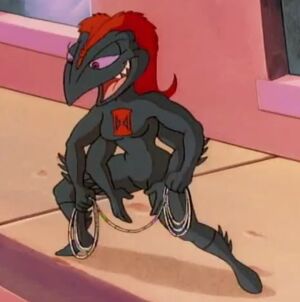 The Spider-Villain
(Maggie Roswell) is a villainess from "Super Buttons," a Mindy and Buttons segment from episode 1.61 of
Animaniacs
(airdate May 2, 1994).
The segment has Mindy and her dog, Buttons, as superheroes, with Buttons attempting to protect Mindy from harm while the young girl chases a baby bird. The female Spider-Villain appears later in the segment, while the city's mayor gives a speech stating that he had seen no evidence of carnivorous spider people, with the villainess cackling at the mayor's claim. Buttons ended up captured by the villainess while saving the mayor and Mindy, and narrowly escapes being eaten by her. He later returned with a can of bug spray, and held the Spider-Villain at bay. In response, however, the villainess returned with a fly swatter and smacked Buttons twice before walking off.
Physical Appearance
Edit
The Spider-Villain appears as a human/spider hybrid; she has four arms, but possesses a feminine physique. She has a red hairstyle and wears heel boots.
Maggie Roswell is best known for voicing Maude Flanders (among other characters) on The Simpsons, though she voiced Maude as an evil and vengeful spirit in the show's 29th season finale.
Community content is available under
CC-BY-SA
unless otherwise noted.