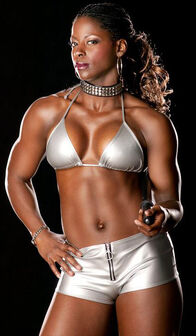 Shaniqua is a former professional wrestler and manager best known for competing in WWE, where she portrayed a villainess.
Shaniqua briefly began her WWE career as a babyface after winning Tough Enough in 2002, only to return as a villainess in the following year. Shaniqua resurfaced as the dominatrix-like manager for the Basham Brothers, and also re-inserted herself into the Divas Division, attacking Divas such as Torrie Wilson, Dawn Marie, and Nidia. A week later, the evil Shaniqua defeated Torrie and Nidia in a handicap match, and attacked fellow villainess Dawn Marie after her victory.
Shaniqua's most memorable moment came when she was on the receiving end of a Clothesline From Hell from Bradshaw after she interfered on behalf of the Bashams against the APA. She returned with enhanced breasts and claimed that Bradshaw's clothesline caused permanent swelling. Shaniqua continued managing the Bashams until early 2004, when she was released from WWE.
Community content is available under
CC-BY-SA
unless otherwise noted.