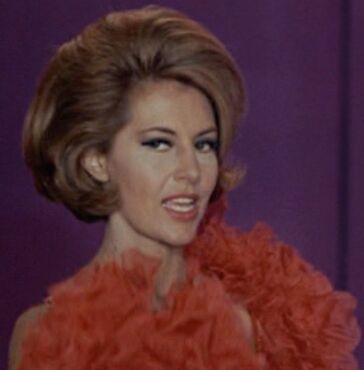 Sarita is an enemy Big O operative agent in the 1966 Matt Helm spy film, "The Silencers". She is played by the beautiful dancer and actress, Cyd Charisse.
Marita appears as a sultry striptease performer in the opening credits wearing a red outfit with streamers that hang down to fill up her skirt. At the end of the dance, she draws up a zipper from her hip to her armpit, revealing much more than just a little leg.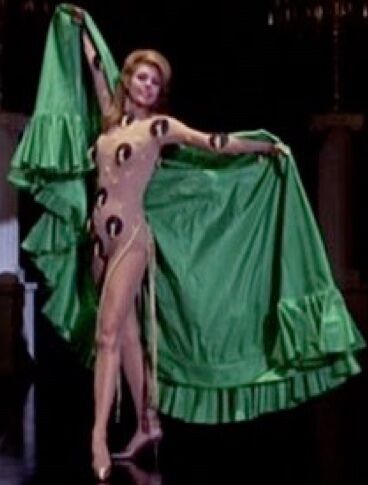 Like all the other Matt Helm movies, Helm is a ICE agent trying to thwart the Big O enemy agent plans. In this particular film, the sinister Tung-Tze (Victor Buono) is masterminding a scheme (Operation Fallout) to drop a missile on an underground atomic bomb test in New Mexico and possibly instigate a nuclear war in the process. Sarita appears as the featured entertainment as a singer/dancer at the Phoenix Hotel in Phoenix, Arizona, where Matt Helm (Dean Martin) is staying. The lounge at the hotel is known as the Slaygirls Club. Helm learns that a microfilm capsule containing valuable information is in the possession of Sarita, and that she may be trying to pass it off during her performance. The information has to do with the timetable for a planned U.S. underground atomic test. She originally obtained it from the American scientist Dr. Naldi (David Bond).
Sarita wears a brown leotard with tassels hanging out throughout the outfit. They kind of resemble condoms stuck all over her. Towards the end of her performance, she is shot through her own billboard poster with two bullets to the chest by Sam Gunther (Robert Webber), who is also a Big O operative.
As she is dying on the stage, Gail Hendricks (Stella Stevens) reaches her, and Sarita hands off a microfilm capsule to her.
Helm and his beautiful companion, Tina (Daliah Lavi), intercept Gail and obtain the microfilm from her. Tina ends up being a double agent, and it is Gail who ends up helping Helm foil the villainous Big O's plans.
Community content is available under
CC-BY-SA
unless otherwise noted.