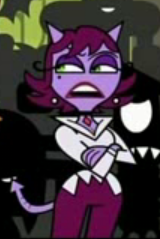 Saranoia is a recurring villain in the TV series, Yin Yang Yo!. She is a mage with a wide variety of magic wands and also a master of disguise. She is also very sexist, which stems from the terrible childhood she had. Unlike most villains in Yin Yang Yo, Saranoia isn't pure evil, she is just really crazy. This is shown when she mistakes Yang for her brother Mark and Master Yo for her father.
Saranoia's main goal is to get Yin to leave Yang and Master Yo and join her. To that end, she's performed several different schemes, all of which involve her disguising herself in one way or another. But, like with most villains, her plans always fail. Saranoia was eventually condemned to an insane asylum at the end of The Truth Hurts and stayed there until A Bad Case of the Buglies.
Community content is available under
CC-BY-SA
unless otherwise noted.