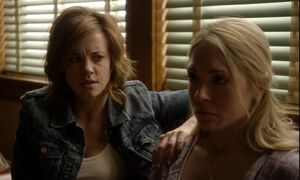 Sarah
(Molly Burnett) &
Nikki
(Brooke Nevin) are the main villainesses from "Four Arrows," episode 4.04 of
Longmire
(airdate September 10, 2015). They are longtime best friends, and Nikki was the fiancee of Noah Milton.
Sarah and Nikki were in Wyoming as part of a bachelorette party for the latter, but during the party, Sarah had learned that Noah was having an affair with their friend, Delia Garrett. The pair confronted Delia inside an RV, but when Delia wouldn't admit to the affair and attempted to leave, both women attempted to prevent her from leaving. A scuffle ensued, ending with Sarah pushing Delia and causing her to hit her head, killing her instantly. Following Delia's death, Nikki helped Sarah cover up the murder by placing the body in a black duffel bag, and using an accident with another bus as a distraction.
When interviewed by Walt Longmire regarding Delia, Sarah stated that Delia canceled at the last minute because she was sick. However, the truth was exposed when the villainous conspirators were interrogated along with Noah, which saw Sarah verbally attempt to pin Noah as the killer after the affair was exposed. Longmire brought out credit card records that confirmed Sarah's role, as she didn't purchase a gift basket for Delia, proving that she knew she wouldn't be at the party. Sarah angrily confessed to the confrontation, and confirmed Nikki's role when she revealed that they covered up the murder. Nikki was left wondering what she did wrong in her role, and following this, both women were arrested in Delia's murder.
Community content is available under
CC-BY-SA
unless otherwise noted.