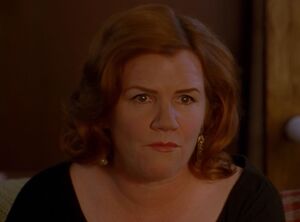 Rita Gayheart
(Mare Winningham) is a villainess from "Orphans," the tenth episode of
American Horror Story: Freak Show
(airdate December 17, 2014). She is the sister of Pepper, a microcephalic woman who was a performer at Fraulein Elsa's Cabinet of Curiosities.
Following the death of Pepper's husband, Salty, in 1953, Elsa Mars took the despondent Pepper to Rita in Sudbury, Massachusetts, where it was revealed that Rita gave her up so she and her husband Larry could have a baby. Nine years later in 1962, Rita became pregnant and gave birth to a baby, Lucas, who had deformities. Since then, Rita abused Pepper and forced her to tend to Lucas and also wait on her hand and foot, while also sharing her disdain of her son with Larry.
Feeling that both Pepper and Lucas have "ruined" their lives, Rita agreed to collude with her husband in a vile plan to eliminate both of them. Larry cut both of Lucas' ears and drowned him, while a horrified Pepper listened. Regarding Rita, she phoned police and falsely accused Pepper of the murder, which led to her arrest. Later on, the evil Rita had Pepper committed to Briarcliff Manor (the setting of American Horror Story's second season, Asylum), and was shown giving a false version of the events to Sister Mary Eunice.
Rita's evil actions led to Pepper being committed to Briarcliff, as well as her events in Asylum--including Pepper's death in 1966. Beyond framing her sister for the death of her son, Rita's fate was never revealed.
Mare Winningham previously appeared on American Horror Story as the evil Alicia Spencer in Coven.
Community content is available under
CC-BY-SA
unless otherwise noted.