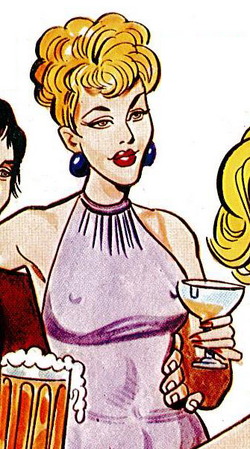 Reginald Fik
and her crossdressing associates are the antagonists of the 1982 Italian erotic comic "Batty & Gay #10: La Finocchiona".
Dressed as a man, Reginald dishonestly seduces titular heroine Batty and offers her a job as a secretary. When Fik states that n male guests may be brought to her property, Betty has her friend Gay dress as a woman so that he can attend her new boss's gathering. When Reginald discovers that Gay is a man, she orders her friends, who are also crossdressers, to kill him. However, as Gay had been training in karate, he is able to subdue them. Batty then takes a club to Reginald, and then to her servant, Sorkinus.
Though not outright confirmed to be killed, Gay describes the array of bodies in the aftermath as a "morgue/funeral".
Community content is available under
CC-BY-SA
unless otherwise noted.