Wiki Targeted (Entertainment)
Play Sound
Red Dawson is a villainess in the American crime/detective comic strip "Hooks Devlin special agent".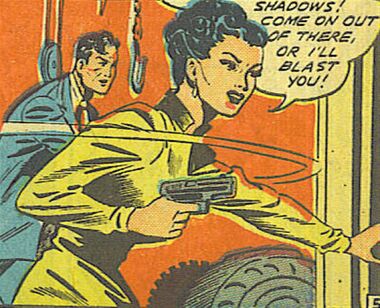 Appears in -
Fight comics, issue 63 (Fiction house 1948).
Red Dawson is the leader of a criminal gang of robbers who are being hunted by the hero, Hooks Devlin. The gang plan to get rid of him. First they try to frame Devlin. When that doesn't work out, Red herself kidnaps Devlin at gunpoint and takes him to an old factory. The gloating villainess is about to kill Hooks when Devlin's girlfriend, Peaches, arrives to interrupt proceedings. Devlin tackles Red's henchmen, but Red takes aim at him with her gun. Peaches foils her, smashing the villainess on the head with a bag of money, knocking her out. The police soon appear to take Red and her men to prison.
Appearance/Character -
Red Dawson is a slim Caucasian woman, probably in her late 20s. Attractive, though "bad" looking. Red is a "redhead" according to Devlin - and her name - though her short, wavy hair actually looks black in the pictures. She's a nasty female gangster, greedy and ruthless - obviously very keen to gun down Devlin when she has him prisoner.
Weapons -
Automatic pistol.
.