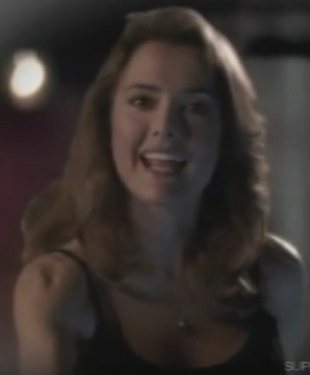 Rachel Lang (Fabiana Udenio) is a villainess in the 1998 epiosode "Chrome II" for the TV series "NightMan".
Rachel Lang has the ability to telepathically impose her will on others.  We first see her do this with her partner Rudy who has stolen a diamond necklace in a high rise building.  She telapathically tells him to jump down from the tenth floor.  After he does so, she is left with the merchandise by herself.
She is then approached by Joran (Shane Brolly), a psychic vampire, who proposes they work together.
Johnny Domino (Matt McColm), Charlie, Raleigh and Frank meet at the Rocky Mountain Jazz Festival for a fun weekend at a ski resort near Aspen.  There they meet two reporters, Elaine Barnes (Robyn Riley) and Jennifer Parks (Alexandra Hedison), who they agree to take into their rooms after a mixup in reservations.
Johnny is approached by Rachel, and Johnny finds himself attracted to her.  What he doesn't know is that she was also struck by the cosmic lightning and acquired the ability to make anyone do what she wants them to and has been using it for her personal gain.  She begins to monopolize his time, and he changes into a snobby unpleasant guy.  She does this to discover NightMan's secrets and use his powers for her own will.
Joran and Rachel set out to systematically destroy Johnny's friends, injuring Raleigh while he snowboards and exposing the reporters to a dangerous fire.  However, Johnny's strange behavior is merely an act, as he realizes that he is being played by Joran and Rachel is just working for him.  
Joran kills a musician named Woody Gillis and takes his talent from him.  They then framed Johnny for the death.
Johnny attempts to settle the score with Joran during a snow-sled chase up on Devil's Point.  However, Joran causes an avalanche which engulfs a car with Johnny inside.  Joran was not trapped, and he came up behind Joran, pushing him to his death.  Johnny then saved his friends trapped in the avalanche.
Unfortunately, the video that I watched was missing 10 minutes of the episode, and I do not know the fate of Rachel.  I assume that she was defeated or killed, since Joran was destroyed as well.
Fabiana Udenio appeared as Alotta Fagina in the 1997 film "Austin Powers: International Man of Mystery".
Community content is available under
CC-BY-SA
unless otherwise noted.