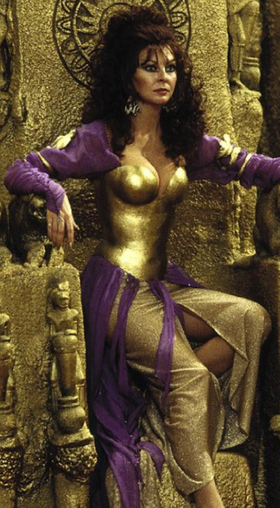 Queen Sorias is the evil queen of the Lost City of Gold in the 1987 film, "Allan Quatermain and the Lost City of Gold". She is played by the actress, Cassandra Peterson.
The wicked Queen Sorias is co-ruler of the Lost City of Gold along with her noble sister, the beloved Nyleptha (Aileen Marson). Despite the joint ruling of the two sisters, the real leader is the evil High Priest, Agon (Henry Silva) who is feared by all.
Allan Quatermain (Richard Chamberlain) and Jesse Huston (Sharon Stone) raise the population against Agon and Sorais.
Jesse and Sorias begin having a catfight, that gets broken up when they watch Allan and Nasta (Doghmi Larbi) fall over the opening to the liquid gold pit. They are dangerously close to falling in, when Sorais attempts to help push in Allan. However, Jesse intercepts and flips Sorias up into the air. She lands on the back of the outstretched Doghmi Larbi who is holding on for dear life. As the two evil beings hold on, Allan sends a breathe of air into their direction that topples the two into the molten liquid gold and kills them.
Cassandra Peterson is best known for her portrayal of the horror hostess character, Elvira, Mistress of the Dark.  She hosted "Movie Macabre", a late-night TV program that showed scary movies from 1981-1985.  Then the show was syndicated across the US.  The character of Elvira appeared in a number of films.
Community content is available under
CC-BY-SA
unless otherwise noted.