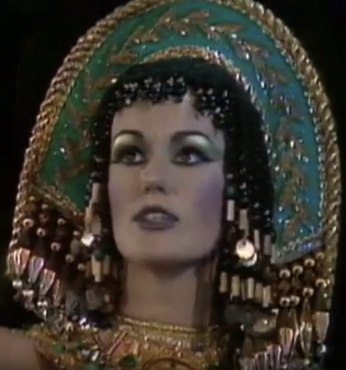 Queen Forah (Barbara Rhoades) was the main antagonist in the 1975 episode "A Worthless Gauze" for the TV comedy series "The Ghost Busters".
Queen Forah originally was a ruler of Egypt.  The ghost of Queen Forah came back to the land of the lving in search for the secret to immortality.  According to an ancient scroll, the ape sorcerer Simios will reveal the being Spenzah, who holds this secret.
Queen Forah and her Mummy took up residence in the stately castle near the cemetery and used her Sun Disc she usually wore around her neck to search for Simios & Spenzah.
Mistaking Tracy the Gorilla and Eddie Spenser for the objects of their search, they visited the Ghost Busters office to demand him to tell her his secret knowledge. Unfortunately, Spenser thought both the Queen and her Mummy, who entered separately, were his partner Jake Kong in disguise. The Queen felt greatly insulted by this. 
Shortly afterwards, the Ghost Busters came to investigate the old castle. The Queen and her Mummy took this opportunity to try and get the secret from 'Spenzah' again, but failed to do so both in the cemetery and at the castle. When they finally realized the men, now joined by Kong, were Ghost Busters instead of magicians it was too late.
Queen Forah was zapped by Kong using the Ghost Dematerializer.
Barbara Rhoades appeared as Veronica Veils in the 1975 episode "The Adventure of Veronica Veils" for the TV series "Ellery Queen".
Community content is available under
CC-BY-SA
unless otherwise noted.