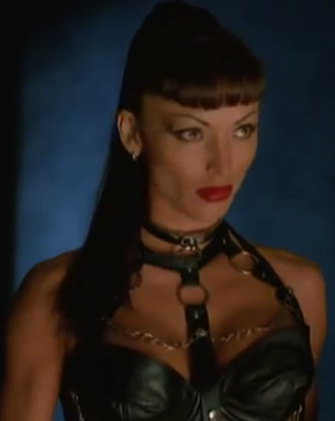 Priscilla (Eva Nemeth) is the evil henchwoman in the 2001 film, "Battle Queen 2020".
Priscilla is one of the brothel women in the movie with Gayle (Julie Strain), the "Battle Queen" who runs the joint known as the Elite Mansion. The mansion is a sort of Gentleman's club, stocked with dozens of pretty ladies that have been rescued from the frozen underground of humanity. They are raised to satisfy the elite rich men who frequent it.
The main bad guy who runs the joint other than Gayle is Manson (Brian Frank), who has a sort of army of paramilitary goons that protect it. The Elites stay eternally young by harvesting the pituitary glands form the underground peons.
Priscilla is Manson's private dominatrix who is into S&M. She wears multiple outfits that include leather, chains, boots, opera gloves, corsets, and fishnet stockings throughout the movie. She uses nunchucks and is competent in martial arts.
Priscilla is finally engaged in battle with Joad (Paul Rapovski), the leader of the rebels. She is ultimately defeated when he uses a wooden cane to knock her out cold. A second blow to her head finishes her off, and we see her broken neck as he picks her up by her choker necklace.
Community content is available under
CC-BY-SA
unless otherwise noted.