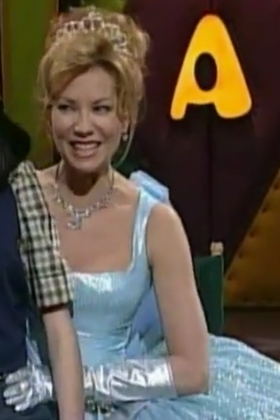 Princess Whiff (Kathie Lee Gifford) appears as a snobby stuck up ventriloquist in season 2 episode 16 (2001) of 'The Amanda Show'. 
Amanda's number one fan Penelope (Amanda Bynes) sneaks in backstage with Princess Whiff, after finding out she'll be performing on the show Penelope distracts Whiff and disintergrates the puppet she's to perform with. After looking back round and seeing the remains the segment ends with her screaming in horror.
On the final segment stage crew worker Kathy (Lara Jill Miller) calls out Princess Whiff to come and perform, with no choice she takes a risk of using the Volunteering Penelope as her puppet.
She attempts to perform however Penelope doesnt comply, being so close to finally meeting Amanda. An embarrassed Princess Whiff jumps out of her seat as the pair get into a scuffle on the floor. Amanda comes back to quickly close the show and leaves. Princess Whiff is shown with her shoes flying off and her tiara pulled down, trying to crawl away with Penelope on top of her as the credits roll.
Community content is available under
CC-BY-SA
unless otherwise noted.