Wiki Targeted (Entertainment)
Play Sound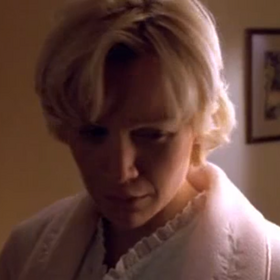 Patty Weyland (Rae Ritke) was the hidden villainess of "Blood Relatives", episode 1.12 of Crossing Jordan (airdate January 14, 2002). She was the wife of hockey player Mitch Weyland and the mother of their two sons, Jonah and Brad. In the beginning of the episode, Patty was found stabbed to death along with her sons, and the police believed Mitch (who had a history of violent behavior and two past incidents of domestic disturbance against) had killed them.
But over the course of the episode, it was revealed that Mitch had a secret family in Pennsylvania, having married his high school sweetheart Nora and had a daughter with her named Dena. Mitch left them when he got transferred to Pittsburgh, leading Dena (now 17 years old) to go to the Weyland house and talk to Patty, shocking her with her husband's double life. The conversation turned into an argument, which was witnessed by neighborhood boy Derrek Mobley.
Furious and heartbroken over her husband's betrayal, Patty turned heel by stabbing her sleeping children to death with a letter opener, and afterwards, the evil Patty stabbed herself to death with the same weapon. While doing this, Patty's hand slid over the knife, causing her to get cuts on her hand that were later mistaken for defensive wounds. Dr. Jordan Cavanaugh eventually deduced what had truly happened, as a flashback scene of Patty's heel turn ended up exonerating Mitch and posthumously revealing Patty as a deranged and murderous villainess.
Gallery