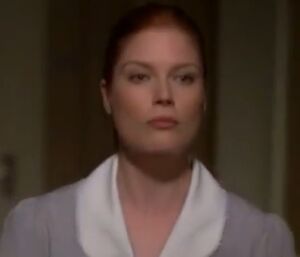 Pamela Franklin
(Amy Price-Francis) was a hidden villainess from
Medium
's third season finale, "Everything Comes to a Head" (airdate May 16, 2007). She was the illicit lover of Walter Paxton, who killed and beheaded his wife, Natalie.
After Walter was arrested and convicted in his wife's murder, he and Pamela colluded in a plan to get him released. She was given Natalie's severed head and she later killed a woman while leaving the head at the scene. The murder was committed to give doubt to Walter's guilt, and to make sure that the doubt would lead to a release, the villainess targeted another victim, Cheryl Ann Potts, two days later. Pamela entered Cheryl's room disguised as a maid, while carrying Natalie's head in a cooler and holding a knife behind her back. Shortly afterwards, the evil Pamela trapped Cheryl in her bathroom, where she killed and decapitated Cheryl.
The plan was successful, and Walter ended up released from prison, after which he met up with Pamela. The sadistic couple recapped their plan, with Pamela showing glee over her role and agreement to kill for him. However, Pamela ended up killed and beheaded by Walter. Pamela's reveal as a villainess came posthumously through visions from Allison DuBois.
Amy Price-Francis also appeared on Sue Thomas: F.B.Eye as villainess Ann Leland and later played villainous conspirator Elizabeth Morgan in Fifty Shades Freed.
Community content is available under
CC-BY-SA
unless otherwise noted.