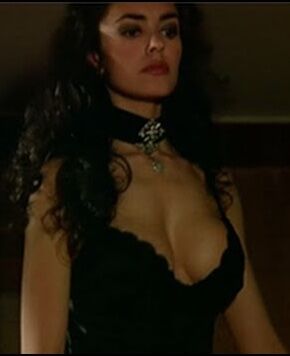 Olga plays a henchwoman in the 1993 Italian movie "Alto Rischio" or "High Risk". Olga is played by the beautiful Italian actress, Maria Grazia Cucinotta.
In the movie, Olga is a hired assassin and lover for a Mr. Sjberg (Angelo Infanti). She is his henchman, and does odd jobs. At the beginning of the movie, she is tasked with retrieving some disks and killing Vera (Isabel Russinova). Olga retrieves the disks and shoots two guards, but Vera escapes the hit job.
Olga is unable to talk in the movie, but understands everything said to her. She takes great pleasure in killing people.
We see Olga slip off a black lace gown revealing a black lingerie and black velvet choker on. She then gets on top of Sjberg as the scene fades.
Later she boards a train wearing a black and white patterned dress with a black latex rain jacket. She goes into the individual car of the movie's hero, Mike (Stephane Ferrara). Here she attempts to kill him with a knife, but Mike is too quick. After getting the upper hand, he interrogates her, even though she is unable to speak. Then he ties her hands up with a belt above her head and leaves her there in the train.
This is the last scene we see with the beautiful Olga. Whether she was detained by the authorities at the end of the train trip of whether she was released by a fellow passenger, we never find out.
Maria 

Grazia Cucinotta went on to play the

Cigar Girl

in the 1999 James Bond movie, "The World Is Not Enough".

Maria Grazia Cucinotta appeared as the voice to Sideshow Bob's wife, Francesca Terwilliger, on The Simpsons.  She appeared in episodes in 2005 and 2007.
Community content is available under
CC-BY-SA
unless otherwise noted.