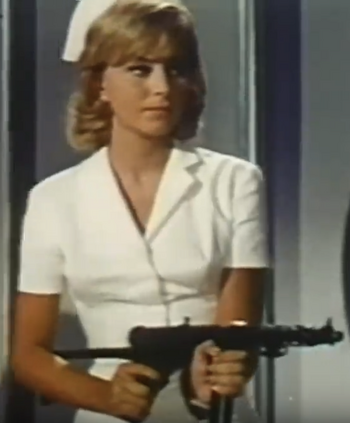 Nurse Silva (Lisa Halvorsen) is an antagonist in the 1967 film "Mission Stardust", which was released in Italy under the title, "4…3…2…1…Morte".  It is also known as "Mortal Orbit".
In a quest to find a source of radioactive material more powerful than uranium, Major Perry Rhodan (Lang Jeffries) leads a four-man mission to the Moon on the rocketship Stardust. 
On the Moon, they find a stranded Arkonide spaceship, where Commander Thora (Essy Persson) is trying to save a scientist named Crest (John Karlsen), along with a crew of robots. The earthmen find that Crest is suffering from leukemia, for which there is a cure available on Earth. Perry and others take an Arkonide shuttlecraft to Earth to bring back a doctor with the cure.
One of the Earth crewmen is a traitor, however, supplying information to a crime lord (Giani Rizzo) who is after the radioactive material, but who sees the encounter with the Arkonides as providing an opportunity for an even greater prize. The crime lord arranges to replace the doctor and nurses with his own people, and upon arriving at the Arkonide ship they kidnap Thora in a bid to gain Arkonide technology.
Nurse Silva along with Dr. Ann Sheridan (Ann Smyrner) pose as members of a medical team called to treat the dying alien leader (John Karlsen). The teams intention is to steal the extraterrestrial vessel.
Crest provides Rhodan and Mike Bull (Luis Davila) with Arkonide technology, which helps them rescue Thora as well as the real doctor Haggard, who is able to cure Crest. They soon leave the Moon in the Stardust, promising to return with materials the Arkonides need to repair their spaceship.
Thora activates the alarm which brings robotic sentries onto the bridge firing energy beams from their eyes. Nurse Silva and her colleagues, Dr. Ann Sheridan and Dr. Manoli (Joachim Hansen) are vaporized.  .
Community content is available under
CC-BY-SA
unless otherwise noted.