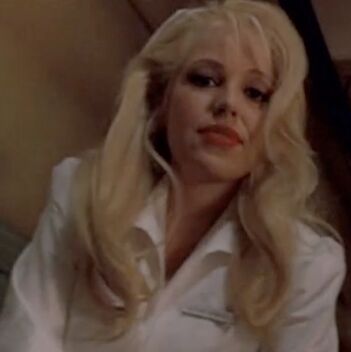 Nurse Nancy (Kate Luyben) appears as one of the virtual evil nurses in the 1998 X-Files episode "Kill Switch". 
Nurse Nancy is a virtual nurse who gets into Mulder's head. She pleads for Fox Mulder (David Duchovny) to tell her where the Kill Switch is. He wakes to find that the nurses have assisted in amputating his arms and legs. When Dana Scully (Gillian Anderson) appears in the hospital room, she knocks out the unknown brunette and other blonde nurses, before doing the same to Nurse Nancy, who is obviously the lead nurse.
There is no conclusive evidence to her demise, but she is virtual, so it was all in his mind. The other bevy of buxom nurses are unfortunately unnamed in the episode.
Kate Luyben appeared as Mimi on the 1999 episode "All About Eddie" in the TV series "First Wave".
Kate Luyben appeared as an evil Blonde Madam on the 2000 episode "Pilot" for the TV series "Dark Angel".
Kate Luyben appeared as Mary Mason in the 2012 episode "Crazy Mary" for the TV series "Femme Fatales".
Community content is available under
CC-BY-SA
unless otherwise noted.