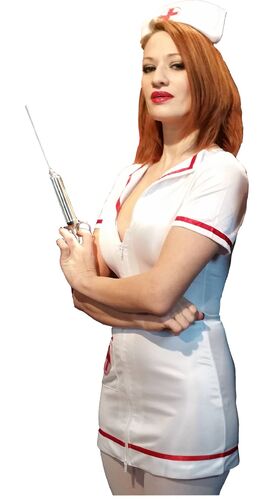 Nurse Goodbody is an antagonist in the return of "Shock Theatre" that appeared on WDEF Tuff TV in Chattanooga, Tennessee.  The show ran from 2010-2015.  The show originally aired in the 1960's and ended in the late 1970's, and starred Tommy Reynolds as Dr. Shock.  It aired on WTVC Channel 9 on Saturday night.
Nurse Goodbody was portrayed by three actresses during the five years it appeared on TV.  Nurse Goodbody was first revived in 2010 by brunette actress Constance Haynes, who portrayed the nurse until 2012.  The role was then taken over by another brunette, Leslie Gladney in 2012.  From there redhead April Sinclair took over in 2013 and kept the role until 2015.  
Nurse Goodbody was the sidekick of Dr. Shock (Jack Gray), who was also the producer of the program.  In addition it starred his other sidekick's Dirge and Dingbat.  
The group of characters told tales and introduced a new horror film each Saturday night.  Nurse Goodbody was dressed in a sexy nurse outfit revealed her assets.  She was involved in torture with whips, bondage, ate zombie brains, and assisted Dr. Shock in his experiments.
In one episode Nurse Goodbody and Dr. Shock were shocked to death by Dingbat and Dirge while changing a lightbulb.  Later they were revived by Dingbat and Dirge when they hooked them up to additional shocking.  As a result, Nurse Goodbody flogged Dingbat and Dirge with her whip.
Constance Haynes Gallery
Edit
Leslie Gladney Gallery
Edit
April Sinclair Gallery
Edit
Community content is available under
CC-BY-SA
unless otherwise noted.