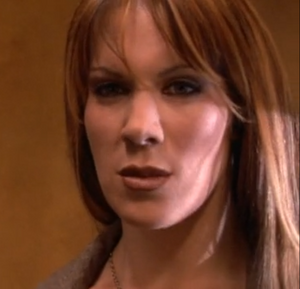 Natasha Tripova (Joanie "Chyna" Laurer; 1969-2016) is the main villainess from "Antianerai," episode 3.15 of Relic Hunter (airdate February 11, 2002). She is the leader of the titular Antianerai, a group of villainous Amazon women looking to dominate humanity.
In the beginning of the episode, the evil Natasha and her group surround Professor Alan Evans in a running train and kill him, while later taking possession of a staff head that could be used to find the Belt of Hippolyte, a relic that could prove the existence of Hercules, and could make Natasha the queen of the Amazons. Natasha ends up arrested after fighting with officers, but she escapes and rejoins the group, who is looking for someone to translate the inscription on the staff head.
Natasha kidnaps Nigel, knowing that he's close with Sydney, and attempts to force him to translate the inscription. After doing so, Natasha successfully gains possession of the belt, but at episode's end, Sydney engaged in a final fight with Natasha, which ended with the villainess defeated and the Amazons worshiping Sydney.
Joanie Laurer was the second female WWE star to appear on Relic Hunter. The first was Sable, who appeared in Season One's "Nine Lives" as the evil Elizabeth Rukeyser.
Other than her villainous WWE character, Joanie Laurer also appeared on Sabrina, the Teenage Witch as one-shot villainess Mary Jo Ponder, and played Rex in Illegal Aliens.
Community content is available under
CC-BY-SA
unless otherwise noted.