Wiki Targeted (Entertainment)
Play Sound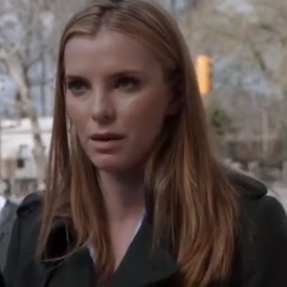 Natalie Relais (Betty Gilpin) was the hidden main villainess of "Learning Curve," episode 13.21 of Law & Order: SVU (airdate May 9, 2012). She was a biology teacher at the prestigious Millicent Fawcett School and the former girlfriend of fellow teacher Joanne Parsons.
Furthermore, the episode's progression saw Natalie eventually being revealed as a statutory rapist, having initiated a sexual relationship with student Luca Gabardelli (the episode's secondary antagonist). When Joanne caught the two together in the school's rare book archive, the villainess manipulated her ex-lover into believing that he seduced her and that she would end their relationship.
In reality, the evil ephebophile conspired with her newest lover to silence Joanne by stating that Rick Simms (another teacher of Luca's) molested him, which led to him leaving the school before being abducted and beaten by members of Dominican gang BX9—who were paid by Luca's father Ray to do so. When the titular Special Victims Unit began to notice inconsistencies in Luca's false claims, Natalie instructed him to accuse Joanne of being his sexual abuser, providing him with detailed information about her and her house in order to make his next allegation seem to be true. This drove her to attempt suicide at Prospect Park Lake out of shock.
It was when Detective Olivia Benson questioned Joanne at Brooklyn General Hospital that she revealed Natalie's true nature and how she had stayed quiet about her actions due to being deeply in love with her. After that, the deceptive woman came to the NYPD's 16th Precinct with her lawyer, where she denied all of Joanne's allegations and claimed that she was mentally unstable, though her lies were easily picked up on. She was later confronted by Luca in her classroom, where he revealed that he bought two bus tickets to Montreal so that they could run away together. However, Natalie told her illicit boyfriend their relationship had to end and that no one could find out what she had done. She also disclosed that she had a fiancé in Los Angeles she was planning to marry and laughed at Luca's claim that he couldn't live without her. Her callous rejection sent the teenager over the edge, resulting in him taking her hostage before stabbing his engaged ex-girlfriend to death with a scalpel.
Community content is available under
CC-BY-SA
unless otherwise noted.