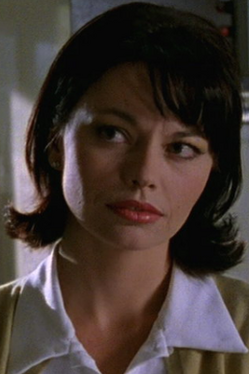 Natalie French (Musetta Vander) AKA The She-Mantis is the main antagonist in the 1997 episode "Teacher's Pet" from the TV series Buffy The Vampire Slayer.
Natalie French appears to be a beautiful older woman but she is actually a praying mantis. She has stolen the identity of a retired teacher, so she could assume the role of a substitute biology teacher in Sunnydale High School.
Natalie French's first victim is Buffy's biology science teacher, Dr. Gregory. She gets the whole class interested in insects. She asks if anybody would help her make model egg sacks for the school Science fair, and all the boys in the class raise their hand. She then had one-on-ones with each of the boys. The first being the eager Blayne Moll. However, the She-Mantis drugged him and locked him in her basement where she kept him in a cage and began forceibly mating with him.
Natalie then targeted Xander Harris, inviting him to her home to work on the egg sacks as she claimed to have left them there. She gave him a spiked martini before dragging him in the cage along with Blayne. She then attempted to mate with him in her mantis form. Buffy Summers peaks through the door frame window and sees French's head turn and realizes that there is something very wrong about her.
Buffy came to the rescue and hacked her to death with a machete, following the advice of Carlyle (who Giles consulted after realizing they were dealing with the same creature that he'd faced). Xander then took the machete and used it to hack up the Mantis' eggs.
Munsetta appeared as Lash in the 1994 TV series "Oblivion".
Musetta Vander appeared as Lady Beryl in the 1996 fantasy film "The Dark Mist", also called "The Lord Protector: The Riddle of the Chosen".
Musetta Vander appeared as the henchwoman Munitia in the 1996 film, "Wild Wild West".
Musetta Vander appeared as Shauna Teague in the 1996 episode "Murder by the Book" for the TV series "Diagnosis Murder".
Musetta Vander appeared as Queen Sindel in the 1997 film, "Mortal Kombat: Annihilation".
Musetta Vander appeared as Ilainus in the 2000 episode "Amphiboles Under Siege" for the TV series "Xena: Warrior Princess".
Musetta Vander appeared as villainess Prima in three 2000 episodes of the TV series "Secret Agent Man".
Musetta Vander appeared as Nutragena, the villainess in the 2002 episode "Hamm Stroker's Suck My Blood".
Musetta Vander appeared as Morticia in the 2006 film, "Monster Night".
Community content is available under
CC-BY-SA
unless otherwise noted.