Narusha and Natalie are zakos appearing in the now-defunct beat 'em up MMO Fighters Club (exclusive to the Japanese server only). They appear to be twins, despite (probably) not related to each other. However, they both work for the same person

Natalie: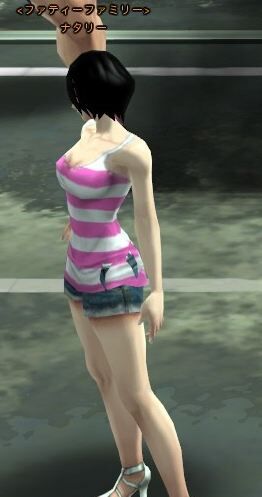 Natalie is one of the two beach bullies that works for the crime boss Fatso. She appears to be a mature girl with short black hair that covers part of her eyes, fair skin, mid-sized breasts and wearing a pink-striped tank top, blue denim and white high heels. She attacks using acrobatic kicks and mostly avoids the player. However, Natalie can be taken down easily. In one stage, the player can run over Natalie using a motor bike. She is possibly a girl of Japanese descent, but her name sounds more Russian/European
Narusha (or Nalsha, depending on how do you spell it), is one of the two beach bullies that works for the crime boss Fatso. She appears to be a palette swap of Natalie, but with a long blonde hair in place of the short black hair. She won't hesitate attacking the player in contact unlike Natalie and much more sadistic. However, still like her "sister" Natalie, Narusha can be beaten up by the players and in one stage, can be send flying with a motorcycle. Due to her name, Narusha could be a Russian/Ukrainian girl
Trivia:
Some fans compare Natalie and Narusha with Yukina Himeragi and Asagi Aiba from Strike the Blood due to their hair colors and their habit of working together to take down the player. Their hurt moans sounds like Shiori Izawa's voice, especially when voicing Sig from Gangsta, Mary Hughes from Fairy Tail and Miu Hiyama from Seiren. It is (possibly confirmed), as Izawa also voiced several bosses in the game such as Miyo and some NPC characters
Footages:
Community content is available under
CC-BY-SA
unless otherwise noted.