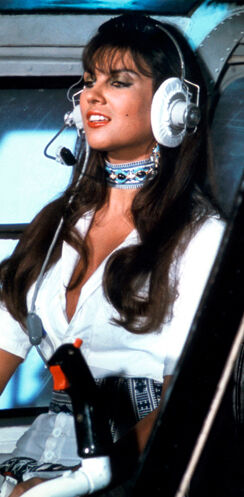 Naomi (played by Caroline Munro) is a henchwoman in the 1977 James Bond film "The Spy Who Loved Me".
In the movie, Naomi is the personal helicopter pilot and assistant to the shipping magnate Karl Stromberg (Curt Jurgens). She is a young beautiful brunette works at Atlantis, Stromberg's oceanic citadel.
Naomi is first introduced escorting Dr. Bechmann (Cyril Shaps) and Professor Markovits (Milo Sperber) into the Atlantis dining room to meet with Stromberg. She appears in a cream colored pants suit with a deep opening in her blouse revealing a very nice shot of her ample cleavage.
She is next seen waiting for James Bond (Roger Moore) and KGB agent Maj. Anya Amasova (Barbara Bach) at their hotel on a boat. She is there to pick them up and transport them to the Atlantis. Naomi is wearing a brown bikini, high heels, a sheer transparent robe, and a pair of sunglasses. She greeted the pair who were posing as marine biologists. It is already apparent that Anya finds the sexy pilot a threat to her, since Bond is drawn to her. She tells both Bond and Anya that she is to collect them and take them to Atlantis to meet Stromberg personally. As Bond watches Naomi stroll towards the boat, Bond comments on Naomi's figure by saying "A handsome craft.....such lovely lines", making Anya even more jealous and bitter.
During the boat trip to Atlantis, Bond and Naomi playfully flirt with one another, as he keeps glancing back at her while she and Anya sit on the back seat. This enrages Anya, since she is not the center of attention.
When they arrive at the base, Bond asks Naomi to stay with his "wife" and show her around.
After his meeting with Stromberg, Bond meets up with Naomi and Anya. She is explaining some facts about the carrier and fleet, and Anya questions her on her facts. This frustrates Naomi. Stromberg, who knows the true identities of Bond and Anya orders Jaws (Richard Kiel) to kill both of them once they get back ashore.
While driving at Lotus Esprit along the Sardinia coastal road, several attempts to kill Bond and Naomi fail. First an attempt by a motorcycle assassin fails, followed by Jaws and his henchmen trying to machine gun them in a car. After Jaws' car is run off the road, Naomi is then seen flying above them in her helicopter. Eventually, we see her fly alongside the car, where to Bond's and Anya's surprise, they see Naomi piloting it. Bond nods at her, and Naomi responds with a sultry wink, a wave and begins shooting once again. This continues the two's flirting relationship. While flying the helicopter, Naomi sports a white jumpsuit with blue choker necklace.
Naomi chases Bond across the highways of Sardinia until he comes to a port. Bond immediately drives off into the water, and Naomi hovers overhead and smiles, believing she has won. Unbeknownst to her, the Lotus is a submersible, which means that Naomi is unable to see it when she's trying to locate it. Bond takes aim using a missile control on the cars console. He then assures Anya it's "time to say goodbye to an uninvited guest". He then fires a surface-to-air missile that blows Naomi out of the sky. Anya finally gets a sheepish grin on her face, knowing that her rival to Bond's affection is no more.
Community content is available under
CC-BY-SA
unless otherwise noted.