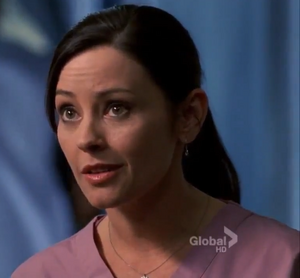 Nancy Lauder
 (Dru Mouser) is the main villainess from "The Doctor in the Den," episode 4.18 of 
Bones
 (airdate April 2, 2009). She is a nurse and a colleague of surgeon Andrew Welton. 
Andrew Welton, a widowed father, was the ex-lover of Dr. Camille Saroyan, though Camille ended their relationship due to Andrew's philandering. As for Nancy, she had fallen in love with Andrew, and stood by him even during his many dalliances with hopes that he would notice her. However, Nancy's feelings were never reciprocated, and she became angry after learning about Andrew's affair with their hospital's (married) administrator, Maura Bailey.
Nancy's jealousy led to her confronting Andrew during a hospital benefit at a wildlife zoo, which ended with Nancy grabbing a snake hook and stabbing him to death. During the murder, Nancy's snakeskin purse was torn and Andrew's blood was all over her black dress, though it wasn't visible during the night of the event. Throughout the investigation, Maura eventually became suspected after their relationship was revealed, but snakeskin on Andrew's hands and a photo of Nancy at the event revealed her as the true villainess.
Camille appeared at the hospital with Dr. Temperance Brennan and Seeley Booth to hand Nancy a warrent for her dress and purse, but in response, the evil Nancy stated that she burned the dress because it was covered in blood, marking her confession. Booth handcuffed and arrested Nancy, who explained her actions by saying that she thought Andrew would change and that she had been there for him a long time. The villainess also stated to Camille that she could understand, only for Camille to respond that she left Andrew due to his philandering before Nancy was officially taken away.
"I thought he'd change. (Booth:  "Yeah, you knew Dr. Welton was having an affair with Dr. Bailey.") All those years. I was always there for him. If anyone knows how I felt, it's you." (Nancy Lauder revealing why she killed Dr. Andrew Welton, while attemping to convince Camille Saroyan that she could understand her actions)
Community content is available under
CC-BY-SA
unless otherwise noted.