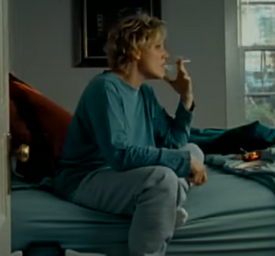 Ms. Carter is the unnamed main villainess from Martina McBride's music video, Concrete Angel (released in 2003). She was the mother of Angela Carter, with the opening of the video showing Ms. Carter smoking in bed as Angela left for school. At school, Angela's teacher notices bruises on her arm, with that and the song revealing Ms. Carter as an abusive mother.
Later on in the video, as Angela talked through her bedroom window to a boy she met at school, her mother burst into the room and screamed at Angela while grabbing her by the arms. She then dragged Angela off-screen and mercilessly beat her to death. Later on, paramedics and police officers arrived at the Carter household, though Ms. Carter's ultimate fate is never revealed.
Community content is available under
CC-BY-SA
unless otherwise noted.