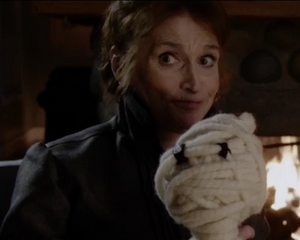 Mrs. Worthington (Margot Kidder; 1948-2018) is the titular main villainess from episode 4.04 of The Haunting Hour, "Mrs. Worthington" (airdate October 18, 2014). She was originally a drawing devised by Nate, who was frustrated over being bullied by his older sister, Molly, and drew sketches of Mrs. Worthington dishing out punishments to Molly, while wishing that she was real.
To the surprise of both Molly and Nate, Mrs. Worthington appeared at their doorstep, introducing herself as their new babysitter. After seeing her collection of tortuous objects from Nate's drawings, Nate attempted to appease Mrs. Worthington and warn Molly about her. However, Molly continued to act rudely, prompting Mrs. Worthington to dish out the punishments Nate drew out; including placing eyeballs in Molly's soup, placing a scorpion on Molly's head, and even posing as Molly and Nate's mother and insulting Molly when she tried to call her. Mrs. Worthington also took out a knit voodoo doll of Molly, and used it to tie her up and zip her mouth shut.
To Nate's horror, Mrs. Worthington turned heel by informing Nate that she planned on punishing their mother, believing that she was to blame for allowing Molly to bully Nate. Having seen Mrs. Worthington as nothing more than a cruel and sadistic disciplinarian, Nate attempted to free Molly, only to the villainess to catch him. At that moment, the evil Mrs. Worthington unleashed a voodoo doll of Nate and planned to punish him by cutting out his tongue. Nate later realizes that he can control Mrs. Worthington with his drawings, and he began tearing a drawing of her to pieces, which caused Mrs. Worthington to break apart. After defeating the villainess, Nate freed Molly (who redeemed herself to complete the double turn), and the pair began getting along. However, the episode's final scene showed one of Mrs. Worthington's hands drawing her picture.
Margot Kidder also played villainous psychiatrist Ellen Holden on Murder, She Wrote.
Community content is available under
CC-BY-SA
unless otherwise noted.