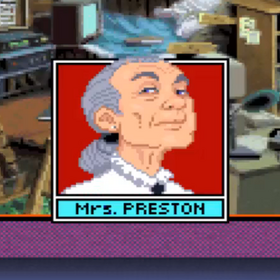 Mrs. Preston
 is a villainess from the 1993 computer game 
Eagle Eye Mysteries
. She appeared in "Case of the Puzzling Pooches", which has Jake and Jennifer Eagle investigating the odd behavior of several dogs at Fairview's Annual Dog Fanciers Show; oddities that resulted in the competition's usual top-placing dogs being disqualified.
Nancy Marx suspected the dogs' strange behavior was a result of sabotage, calling in the Eagle siblings and the player to investigate. Mrs. Preston was introduced into the case when Dr.  Kenara (the judge of the Fanciers Show) revealed she was the owner of the Pretty Puppy Obedience School, and how she asked her how her dogs could've done so badly in the show. Mrs. Preston responded by rudely proclaiming the dogs weren't her pupils anymore, and revealed they were now being taught by Randy Hicks, the owner of the Moondog Academy.
Throughout the Eagles' investigation, Mrs. Preston was established as a more stern instructor in comparison to the more relaxed Randy Hicks, with additional testimonies saying Randy charged less for his services and that some believed Mrs. Preston was too rough with their dogs. Mrs. Preston was encountered by the Eagles as they questioned her and Linda Harper (an old friend of Mrs. Preston's from finishing school), with Mrs. Preston expressing pride in Linda's dog Fifi winning the dog show and disappointment in her former pupils being disqualified, while also admonishing Randy and his dog training techniques as bizarre and insane. Ultimately, however, the Eagles uncovered the true cause behind the dogs' misbehavior: Mrs. Preston used her dog training techniques to sabotage her former animal pupils.
Used her silent dog whistle pendant, the evil Mrs. Preston went to the woods near the dog show and blew her whistle. Having used the pendant to train them, Mrs. Preston's former pupils ran from the ring upon hearing the whistle, resulting in their disqualifications. Mrs. Preston's motive was to discredit Randy's dog training business, wanting to make it appear that his methods were ineffective in order to coerce her past customers to return to Pretty Puppy. A re-trial was scheduled for the dog show and, while Dr. Kenara revealed she was not pressing charges against Mrs. Preston, she inferred that Mrs. Preston's business would suffer as a result of her act of saboteur being exposed.
Mrs. Preston appeared in both Book 1 and Book 2 versions of "Case of the Puzzling Pooches", with Book 2 being the version containing Mrs. Preston's villainous reveal.
Community content is available under
CC-BY-SA
unless otherwise noted.