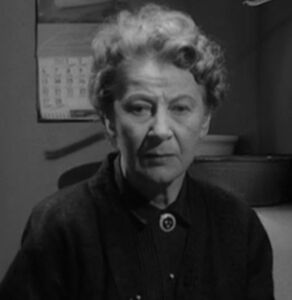 Mrs. Johnson
(Edith Evanson; 1896-1980) is the hidden main villainess from episode 3.32 of
Alfred Hitchcock Presents
, "Listen, Listen...!" (airdate May 11, 1958). She is the wife of Herbert Johnson, but she doesn't appear until the final scenes of the episode, when Herbert arrives at their home.
Mrs. Johnson learned that Herbert had been going around attempting to convince police that a young woman named Helen Jameson was not murdered by a man named Mr. Schultz, who was dubbed as the Stockings Killer. The "Stocking Murders" had the same trend: three young women were strangled to death with women's stockings, and were marked with the letter "A" written in lipstick. Schultz had confessed to the first two murders, but not Helen's, which Herbert stated was committed by a copycat. After failing to convince police, a reporter, and a priest, Herbert returned home and told his wife everything, but Mrs. Johnson sternly told him not to bring it up, stating that he thinks too much.
However, in a shocking twist, Mrs. Johnson turned heel and revealed herself as Helen's killer, with the reveal coming as she was retrieving a towel to dry her hands after washing them. The towel uncovered a pair of stockings and a tube of lipstick--the same materials used in Helen's murder--officially revealing Mrs. Johnson as a crazed and murderous villainess. Herbert's statement regarding people not believing that a mother could do such a thing also revealed that they were Helen's parents. As Herbert stated to the priest, Helen was raised in strict, religious household, but Mrs. Johnson was furious over Helen's "sinful" lifestyle (in her mind). As an act of punishment, the evil Mrs. Johnson killed Helen with the stockings and drew on her with the lipstick to make it look exactly like the Stocking Murders, allowing Mr. Schultz to be accused of that murder along with the ones he actually committed. The episode ended with Mrs. Johnson's heel persona fully established with a fiendish smile while drying her hands, showing twisted pleasure over getting away with murder.
Community content is available under
CC-BY-SA
unless otherwise noted.