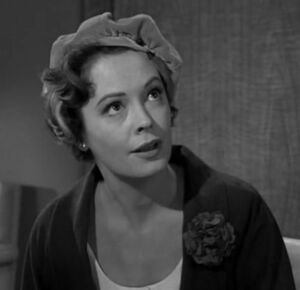 Mrs. Cannon-Hughes
(Jane Greer; 1924-2001) is the main villainess from "A True Account," the antepenultimate episode from 
Alfred Hitchcock Presents
' fourth season (airdate June 7, 1959). She is a nurse who tended to Mary Hughes, the ailing and bedridden wife of wealthy Gilbert Hughes.
During her time at the Hughes home, Ms. Cannon (as she was known at the time) began scheming to become Gilbert's wife, and she began her plan by fatally overdosing Mary and killing her. The villainess then served as the object of Gilbert's affection, which led to Gilbert proposing marriage to her. Ms. Cannon officially became Mrs. Cannon-Hughes, but she had designs on her new husband's wealth. She later killed Gilbert by poisoning his drink, making it appear that Gilbert committed suicide.
The beginning of the episode showed Mrs. Cannon-Hughes entering the office of criminal attorney Paul Brett and telling her story, acting as a concerned and grieving widow who claimed that Gilbert killed his wife and then killed himself out of grief. Paul falls for the villainous widow's charms and ends up marrying her in the episode's climax. However, late one night, Paul entered the bedroom and witnessed his new wife revealing her murderous secret in her sleep. She is accidentally woken up by Paul, but she feigned falling asleep shortly afterwards.
In the end of the episode, the evil Mrs. Cannon-Hughes poisoned Paul to keep her secret hidden; all while Paul's recording of her deeds was playing. After killing Paul, the villainess removed the tape from the recorder and placed it in the fireplace. However, Hitchcock's narration revealed that Mrs. Cannon-Hughes was arrested for the murders of Mary Hughes and both of her husbands (off-screen).
Community content is available under
CC-BY-SA
unless otherwise noted.